Executive Motorized Retractable Screen
Custom Installed Screens for Large Openings
Designed to prevent insects from entering your indoor and outdoor living spaces, provide shade from the direct glare of sunlight, and enhance your privacy, Executive motorized screens appear at the touch of a button – and retract out of sight when not needed. Depending on the selected mesh type, these retractable screens also help reduce your air conditioning costs, lowering the amount of energy used to cool the house in summer.
Click here for product details.
Click here for technical drawings.
Click here for application photos of the surface mount and click here for application photos of the recessed mount application.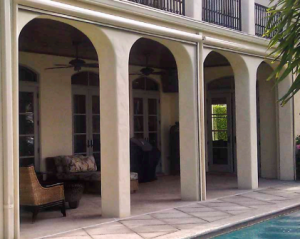 The Sentry™  Retractable Captured Edge Screen
Guarding You Against The Elements & Insects
The Sentry gives you the ability to control your living space. No matter if you are covering your windows, doors, patio or lanai, The Sentry is your solution.
The Sentry can be customized to fit your unique space with widths up to 18 feet and heights up to 12 feet. The Sentry is one system that has many uses. Choosing the fabric for your Sentry screen will allow you to customize your protection. Choose bug screen for insect protection, solar mesh for sun protection, opaque fabrics for privacy or room brightness control, or clear vinyl windows for rain and cold protection without losing your view. The Sentry has an exclusive fabric retention system that ensures your retractable screen will operate in any weather condition, as well as blocking the wind, and keeping unwanted pests out.
Click here to download a brochure.
Click here to download a specifications sheet.
Click here for application photos.
The Sunstyle Retractable Patio Awning
Custom Made Shade From the Pioneers in Customized Retractable Awnings.
No two homes are alike, and neither are their patios or decks. That's why our Sunstyle model retractable patio and deck awnings offers complete customization, so that each awning is tailored to your family's needs and lifestyle. The possibilities are countless, with projections up to 11'6″, hundreds of fabrics and custom features all combining to provide you a perfect, made-to-order retractable patio or deck awning.
Click here to download a brochure.
Click here to download a specifications sheet.